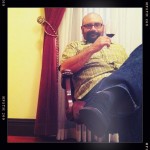 Paso Robles Wine!
Chris Taranto
Age: 40
Weight: Two Hundy-ish
Height: Not tall
Favorite Surf Spot: The least crowded
Favorite Surfers: Curren, Knox, Burrow
 
Uncle Jeff, as he is known at my house, has been a positive influence on my surfing from both a friend standpoint, and as my shaper. We've been surfing along the central coast together since 2003.  In 2006 he presented me with a 5'10" fish (based on a Greenough design) as a wedding present.  That board opened my eyes to surfing something other than my everybody-has-a-thruster-so-I-should-too boards.  Since then he has created more boards than I can count.  His shaping bay is busy and he enjoys sharing the creation process.  He has a passion for surfing, his friendships, and the ocean that translates perfectly into the boards he creates.  Before you order a board, go surfing with him.  I guarantee the board he creates will match your surfing style and if you're 40 like me, you'll get to feeling like you are a grom again.  Go surfing, enjoy life, ride a Whome board.