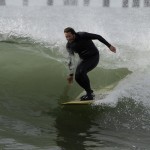 My first board from Jeff was a 6'1″ progressive twinny. The first time I rode it I was hooked. Jeff not only shapes insane boards but knows how to make them for the person who will be riding them. Jeff puts as much effort into customer satisfaction as he does into his shaping and that is really refreshing.
That first board was really a test I gave Jeff because the real challenge came with our second project. I had Jeff make me a copy of a magic 1972 8'6″ Liddle. I wanted a carbon copy of that board, which was no small task by any means. Long story short Jeff absolutely nailed it. The new "Scarliddle" is everything the old Liddle was in it's prime. I get so much joy riding that board it is really hard to explain. I feel I owe Jeff a ton for bringing the magic of the displacement hull back for me.
I have two more boards from Jeff, both twin fins, which I love. I have an old school fish now and another progressive twinny that rides even better than the first progressive twinny that now lives in Chile.
Jeff is an incredible shaper with a magic touch. I am proud to call him my friend as well as my shaper and I look forward to working with him for a long time to come.
Keep shaping Jeff and keep being wierd!
Lardog